Bespoke Christmas workshops with VAHT
2nd February 2022

Posted by:

Louise Tripos

Category:

News

Uncategorized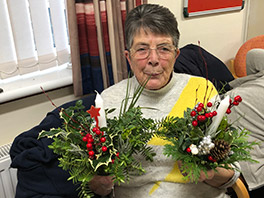 Following attendance at Buckinghamshire Adult Learning's partnership meeting, the Vale of Aylesbury Housing Trust (VAHT) asked our Community Engagement Team to deliver a series of Christmas Craft workshops for their service users across several of their sheltered housing facilities.
VAHT wanted to develop some interventions to reduce loneliness and social isolation for their residents due to the pandemic. During December we ran six workshops, which enabled residents to come together and build a shared sense of belonging, whilst learning how to create their own Christmas decorations. The overall aim of the project was to enrich individual's well-being and resilience, which was achieved.
We received this feedback from the VAHT site managers:
"Residents loved the craft sessions and at the end of it were immediately asking when the tutors could come back. They said it was lovely to concentrate on a task again and to do so in a group after a long couple of years of being isolated. They felt it had been a while since they used their fine motor skills and were surprised at how much they were still able to do. They took pride in what they were creating and were looking forward to showing off their creations to family and the other residents."
To recognise the importance that we place on keeping our learners safe, particularly at a time of year when many of us are shopping online, we invited a Trading Standards officer to visit the workshops to raise awareness of various types of scams. Participants were very keen to learn how to protect themselves and where to go to get help and advice if they think they are being scammed. If anyone would like further information from Trading Standards, please contact Mrs Pei-Ling Harper on PeiLing.Harper@surreycc.gov.uk or telephone 07976 073587.
Please contact Debbie Garwood, Community Engagement Officer, Buckinghamshire Adult Learning, on 07770 802497 or email Debbie.Garwood@buckinghamshire.gov.uk to find out more about how we can run courses or workshops for your organisation.