Buckinghamshire Adult Learning offers iPad courses to Chiltern Villages Residents
19th January 2017

Posted by:

Aspurian

Category:

News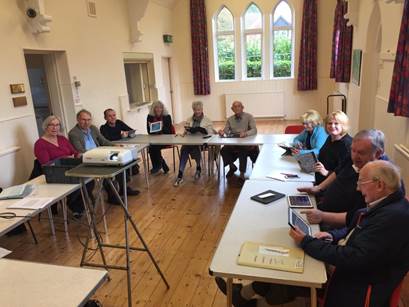 Buckinghamshire Adult Learning recently ran some beginner iPad courses for 20 residents in Cholesbury and St Leonards, Buckinghamshire. The residents aged between 65-85 made use of the recent WiFi installation at the Cholesbury and St Leonards Village Halls and learnt how to navigate around their iPads, use Apps, browse the Internet , take and file photos , access E books and stay in touch with friends and family by email.
Cholesbury-cum-St Leonards Parish Councillor, Chris Brown, contacted Buckinghamshire Adult Learning to set up the courses after securing some Local Area Priority Funding and offered it to members of the Good Neighbours group that he runs. The intention was to offer the courses to older residents in the parish who could potentially become rurally isolated. By gaining confidence with using an iPad, residents could be more socially connected.
The courses were a great success with residents gaining confidence in their IT skills one member said: "It's never too late to learn a new trick on an iPad! Having joined in with a Buckinghamshire Adult Learning iPad course, I can highly recommend. It was tutor led giving hands on practice so any issues could be dealt with straight away."
Buckinghamshire Adult Learning can offer tailored courses for community groups, please contact Cathy Colsell on 07730672402 or ccolsell@buckscc.gov.uk for more information.