Congratulations to our Adult Learners of the Year 2017
21st June 2017

Posted by:

Louise Tripos

Category:

News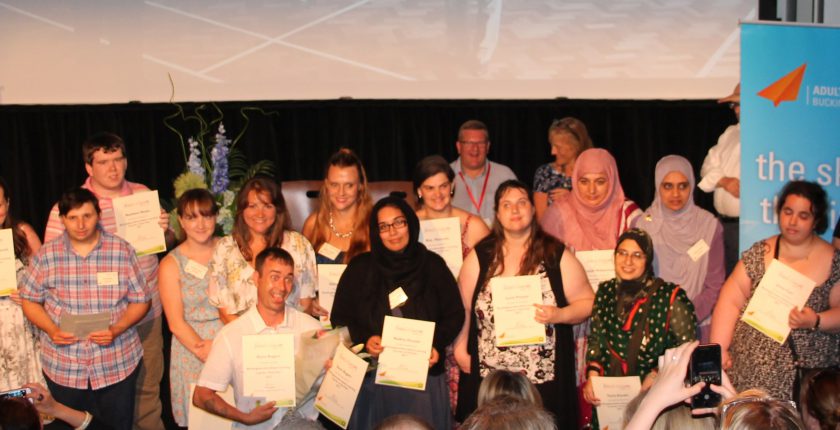 Buckinghamshire Adult Learning held their annual Adult Learner of the Year Awards last night as part of the Festival of Learning. Over 120 learners, tutors, classroom supporters who were nominated for an award attended the event along with dignitaries and staff from Buckinghamshire County Council.
Steve Rogers and Katie Brown, both English and maths Functional Skills learners, were joint winners of the Adult Learner of the Year Award. Steve was presented his award by Mark Shaw, Deputy Leader of Buckinghamshire County Council. Katie could not attend but her tutor, Nina Court accepted her award on her behalf.
Steve's tutor, Karen Richardson, who nominated him for the award, said of him, "Steve has been a credit to the class since the beginning. Steve had a challenging time at school and his learning needs appear to have been ignored and he was written off as a difficult child. He is now trying to make up for lost time and gain Functional Skills qualifications before he is fifty. Then he wishes to progress onto GCSEs. Steve is a joy to have in the class and is able to lighten atmosphere and be friendly and respectful to everyone. He is always willing to help others and make them feel at ease."
Katie Brown left school with no qualifications and very little confidence in her own ability. She started to attend the courses so that she could help her eldest child with his homework and support him at home. Her tutor Nina Court, who nominated her said, "Katie has been on a long and fruitful learning journey and has achieved so much; however, she is not planning to stop at this. Already she is discussing the next steps in her journey as she plans to further her level 1 maths qualification- that she is working towards at the minute- by working on her level 2, as well as completing a Functional Skills English course, with her ultimate goal being to eventually enter employment."
Katie says that her course has given her a positive attitude towards maths. Before she started the course, she would avoid anything to do with numbers and it has helped her to support her children with their school work.
Mark Shaw, Deputy Leader of Buckinghamshire County Council, presented the awards to the winners and said, "Your individual learner stories are truly inspiring. Although you've shown it can be challenging at times, you should all be proud of your achievements today. Your commitment and dedication to continue learning and aspiring to do well are amazing examples to us all and demonstrate what can be achieved.  We recognise the courage and determination this has in many cases required. That's why we've invited you here today, to congratulate you for achieving so much in your courses with Adult Learning."
Tutor of the Year was awarded to Beverley Hudson, an ESOL Fractional tutor from Princes Risborough. Beverley has worked for Buckinghamshire Adult Learning for 14 ½ years. Laura Delaney, ESOL Coordinator, who nominated Beverley said of her, "Beverley has not only consistently shone in observations over the years, producing inspired and innovative lessons and immaculate course files (showcasing her dedication and commitment in her planning and to her learners' needs) but has also consistently gone above and beyond in the care that she shows to her learners on a day to day basis".
Classroom Supporter of the Year was awarded to Beth Clutterbuck who has been volunteering with Bucks Adult Learning for 17 years. She is a vital part of the ALDD Friday drama class, committed to supporting the class every week.  Beth is loved and respected by the learners who appreciate her enthusiastic but relaxed approach.  Beth was nominated by tutor Marianne Gill, who said, "Beth has experience of adults with disabilities and her common sense and willingness to get stuck in means that as a tutor I can rely on her support and suggestions. Her calm, relaxed manner in turn calms the learners and me! I strongly believe that learners are achieving their potential due to the support given by Beth."
Learner Elaine Baker says "Beth helps me understand when I find things complicated, she listens to me and is patient".
Also recognised on the night was City & Guild's Medal for Excellence winner in the student category for Stitched Textiles, Joanna Harker. Her tutor Janet Edmonds, who won the same award in the tutors' category last year, accepted the award on her behalf.