Scrubs Army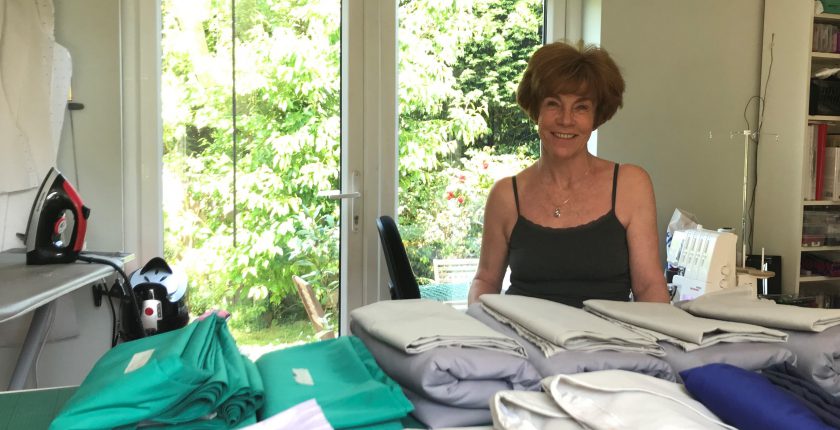 Karen Woods is a learner in one of our dressmaking classes. When not dressmaking, she works for the NHS as an administrator in the Mental Health Team based at Wexham Park Hospital.
As the Covid19 emergency gathered momentum she was moved to think of the safety of her team, she knew that they were so under resourced with PPE. So, Karen, inspired by #FortheLoveofScrubs, offered to make them scrubs and devised a plan to make this happen. This is where her skills as a dressmaker came in. She set about setting up a Scrub Hub, mobilising a team of six with learners Tracey Major, Emma Sherrard and tutor Christine Marks.
She organised the patterns and organised fabric and distributed both, she drafted new patterns, sent us all tips on the quickest way of doing different processes, encouraged us when we were a little unsure and delivered the finished scrubs to her team in Wexham Park. But it did not stop with just Scrubs for her team, through #ForTheLoveofScrubs Hillingdon, Hillingdon hospitals have requested scrubs and her counterpart mental health team at Royal Berkshire Hospital have done the same and they are all still making scrubs – to date 70 sets of scrubs have been made and gratefully received.
Karen writes "Lockdown has been a surreal experience for me, through my dressmaking I found a way to make a positive contribution on many levels – for the scrub wearers (my colleagues at work, friends within the medical world and strangers I'll probably never meet) clothing they needed, to myself a real sense of confidence and pride in my sewing abilities and to my fellow sewing angels equal stars in their own right who rallied to my call for help like absolute troopers – we're all a small part of a national effort through a love of dressmaking".